Go Back
Luxe Villa w/Pool/Sea & Mountain Views/Parking
Delightful 2-Story Stone Villa in South of France
4 large bedrooms, all with ensuites
Sleeps 8 comfortably
Open plan living room, dining area and kitchen
Private swimming pool in a beautifully landscaped garden
Easy parking for 4 vehicles at the villa
10-min drive to Cannes
Close to the beautiful, medieval town of Mougins
Location: Mougins, Provence-Alpes-Côte d'Azur, France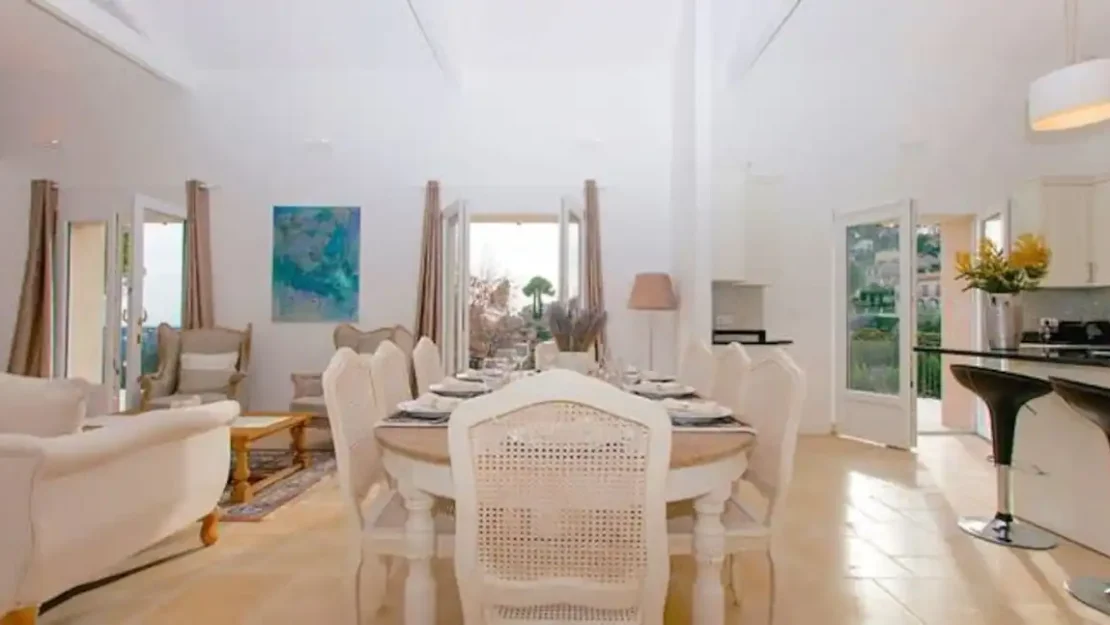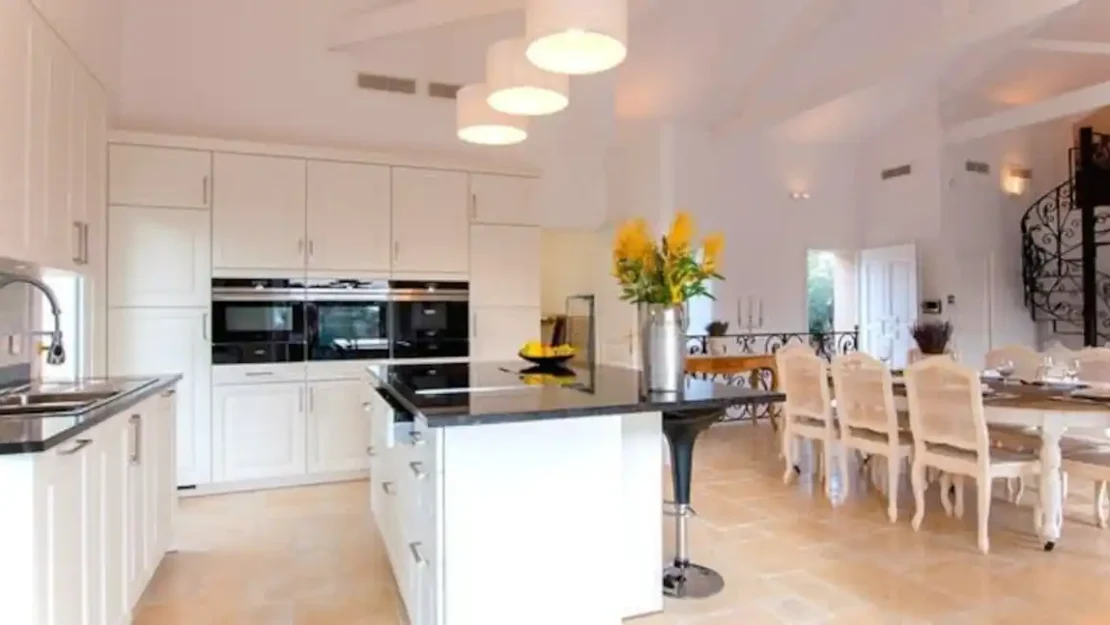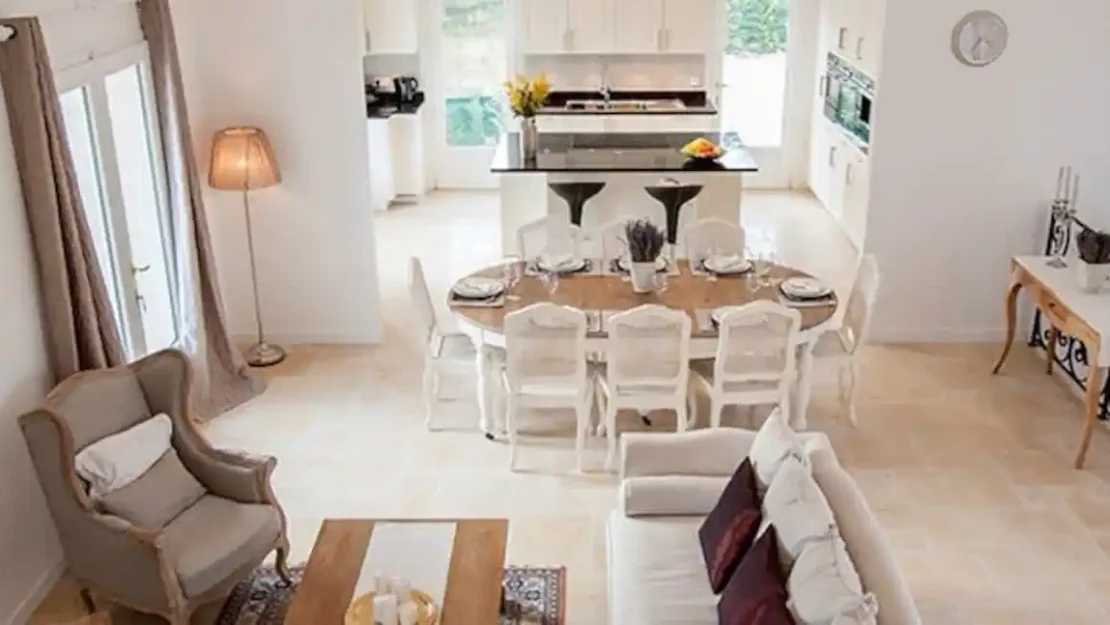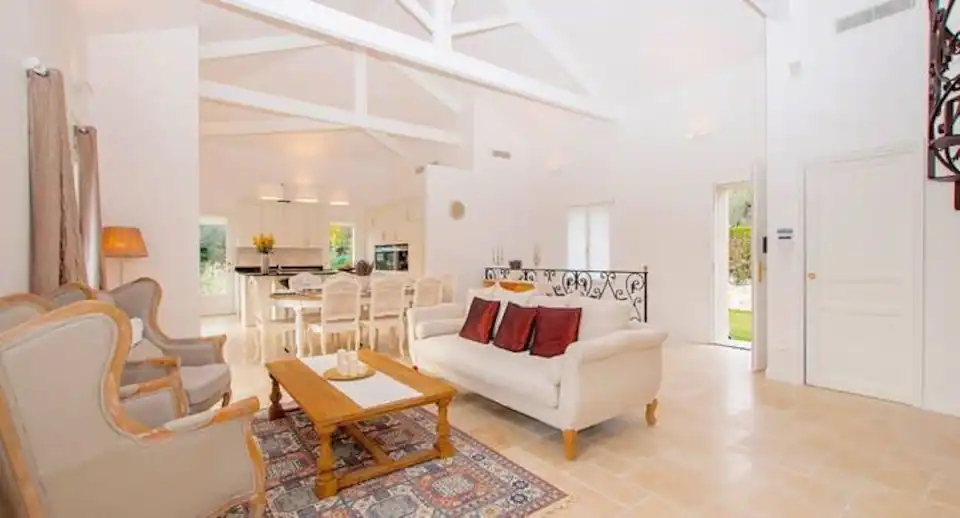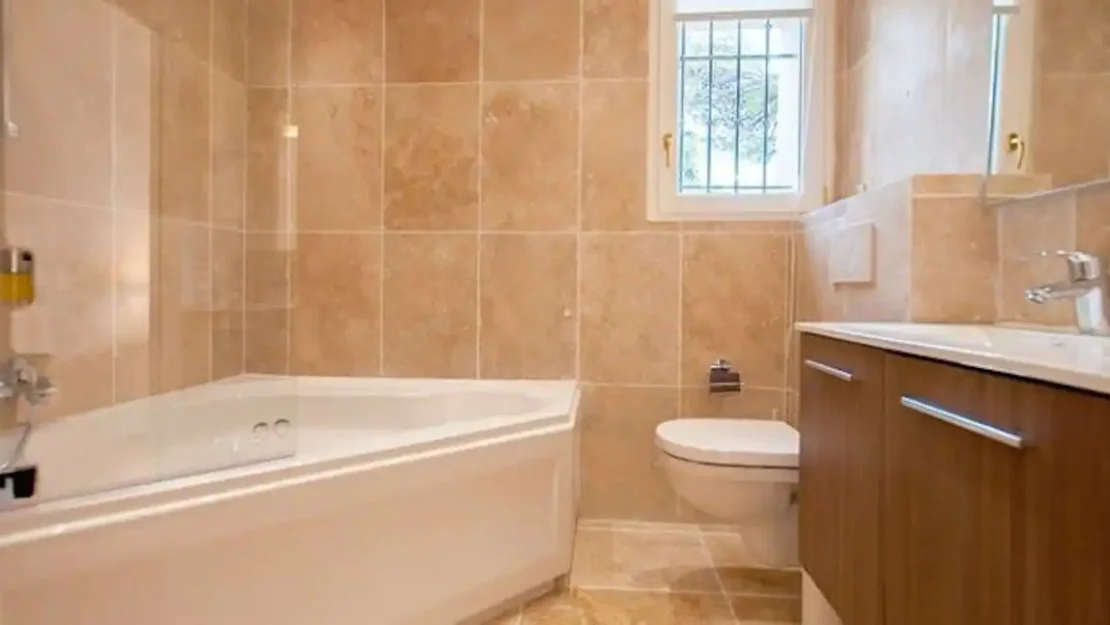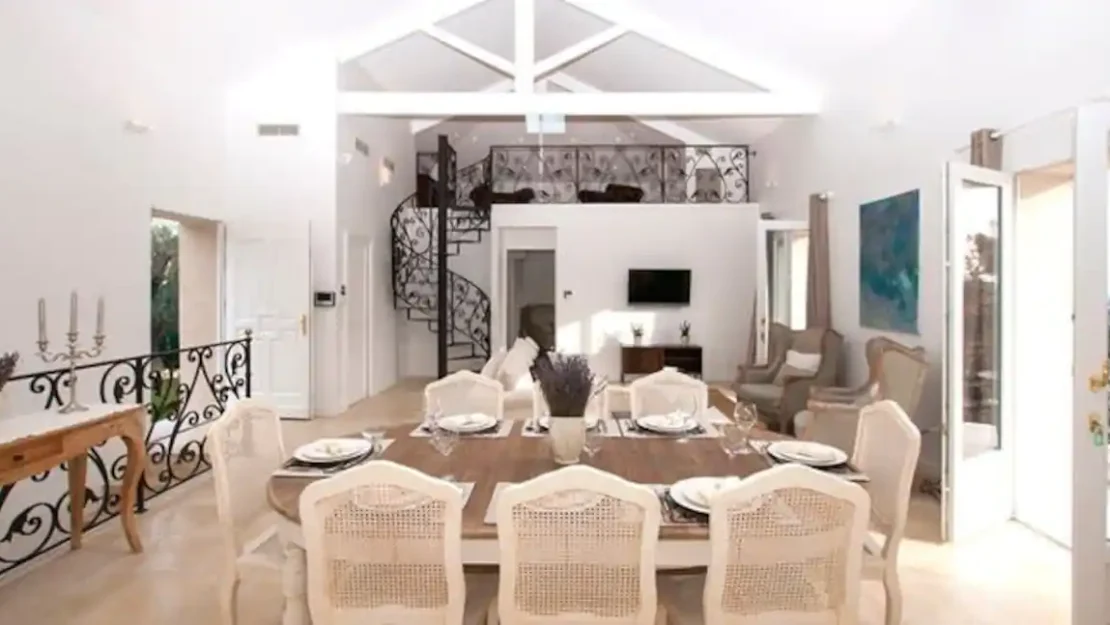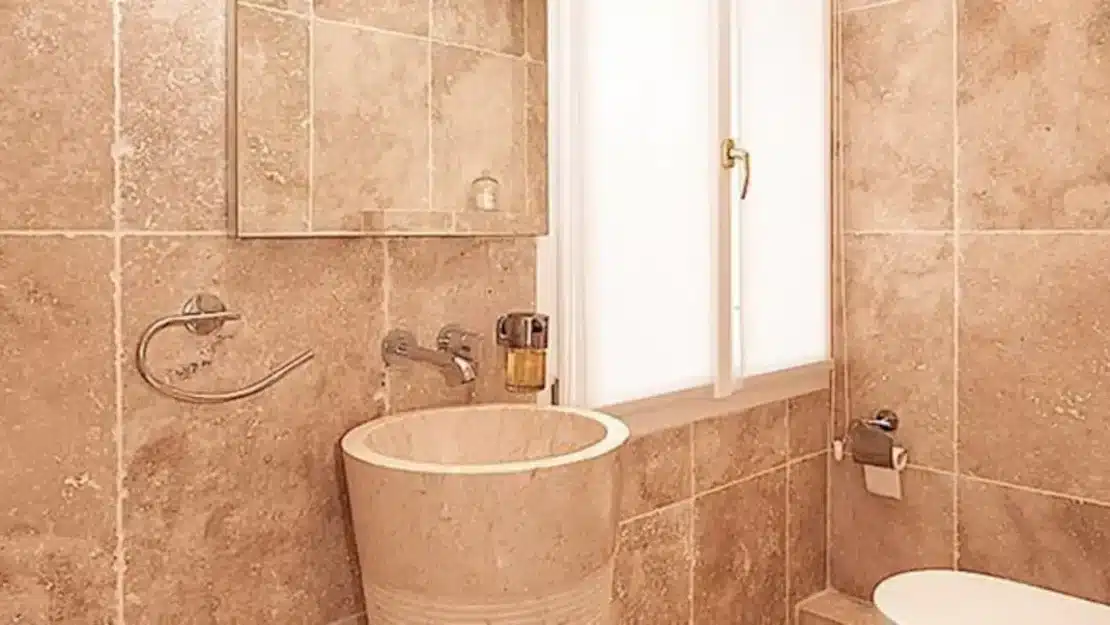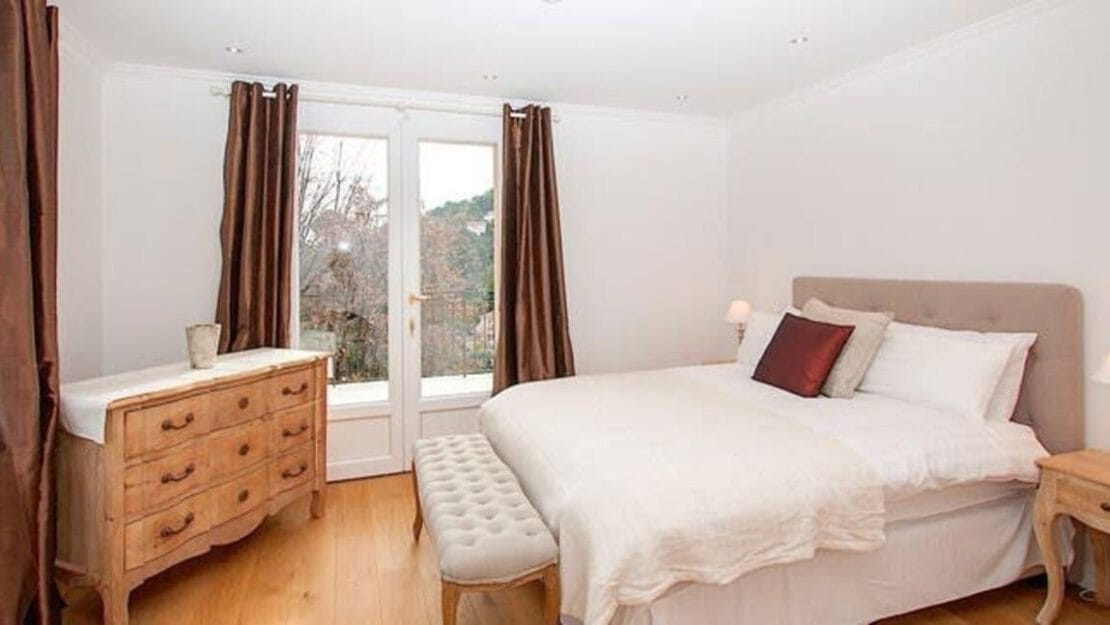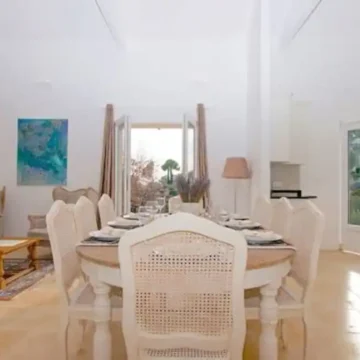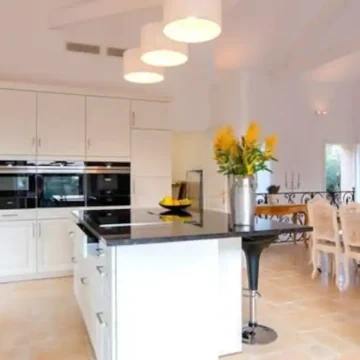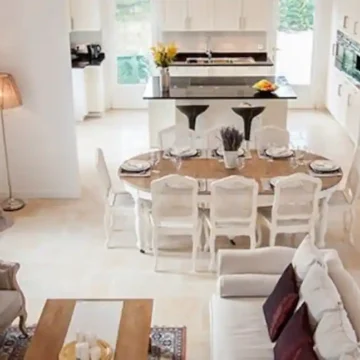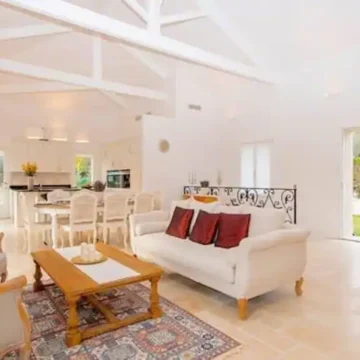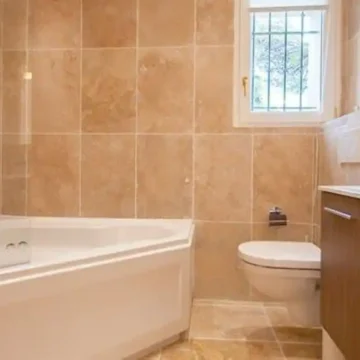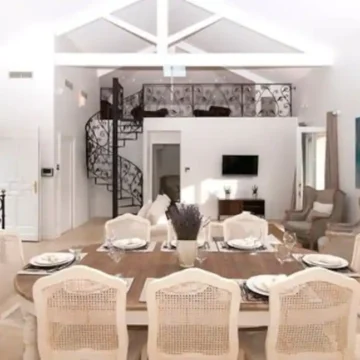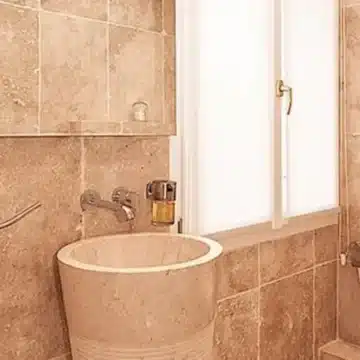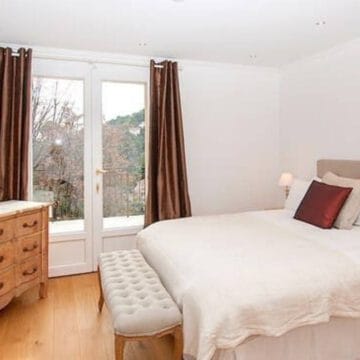 About the property
The Space
For the ultimate in homely comforts and relaxing luxury, this recently refurbished 220sq/m stone villa is hard to beat. Located in a secure and secluded location, you will be surrounded by sophisticated beauty when you choose to stay in this fully air-conditioned two-story home with underfloor heating. The plot is surrounded by ancient olive trees set in a landscaped garden which, of course, has its own swimming pool.
The Bedrooms & Bathrooms
The master bedroom is the only bedroom located on the upper floor. You'll find a queen bed in here with high-quality bedding and a mattress. There's an ensuite bathroom too. Be sure to open the French doors every morning and step out onto the upper terrace and take in the spectacular views.
The other three bedrooms are back down on the main level of the villa. All have equally comfortable queen beds and French doors that give direct access to the terrace beside the pool. And all have an ensuite bathroom as well, ideal if you are traveling as couples or are staying with colleagues and want your own space.
There is an additional WC on the main level with a staircase that leads to a lovely mezzanine area.
The Open Plan Living Room, Dining Space & Kitchen
Brilliant white painted walls and high ceilings play host to elegant furnishings and modern designs in this most open of spaces. Opulence is here for all to see. It's in the delightful suite in the living area where you can all gather for conversation or to watch the television.
It's in the dining area with its table and chairs in the center of the room, providing seating for all 8 guests at once. Ideal if you are visiting here for a special occasion that you want to celebrate together with a meal.
And opulence is in the luxurious kitchen, beautifully designed of course, with an array of high specification appliances including an oven, stovetop, dishwasher, and coffee maker.
There are majestic, panoramic views of the Bay of Cannes, the Mougins Vieux Village, and Esterel mountains.
Outside Space
The living area affords you direct access to the covered terrace and garden, which features your heated salted swimming pool. Also out here is a Pétanque and BBQ, making it easy for you to enjoy perfect grilled steak any time of the day.
Laundry
As you would expect from a large, luxury home, there is a washing machine and dryer, so you can keep your clothes clean throughout your stay.
Parking
There are parking spaces reserved for 4 cars in the villa, so you can all pull up right outside the front door and enjoy not having far to wheel your luggage when you arrive.
Guest Access
The villa, its pool, gardens, and parking spaces will be all yours and yours alone. Your hosts know that, as discerning guests, you expect the best of everything. Not just in every room of the villa, but also in the customer service you receive. Rest assured, the team responsible for the villa has vast experience in welcoming guests to quality homes across the French Riviera and will be on hand to answer questions and provide assistance when you require it.
Assured Consistency
All of our amenities and property information are updated on both our own site and Airbnb regularly.
If you have any additional questions relating to the property or booking process, do not hesitate to get in touch via our contact form further down the page.
Amenities
Bed linen
Dryer
Essentials
Hangers
Iron
Washing machine
Air conditioning
Heating
Indoor fireplace
Fire extinguisher
First aid kit
Smoke alarm
Coffee
Coffee maker
Cooking basics
Dining table
Dishes and silverware
Kettle
Kitchen
Microwave
Oven
Refrigerator
Stove
Toaster
Wine glasses
BBQ grill
Garden
Outdoor dining area
Outdoor furniture
Patio or balcony
Free parking on premises
Private pool
Image Gallery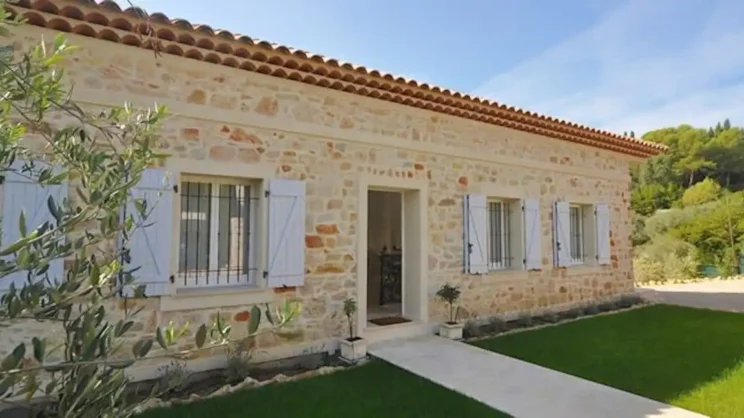 Welcome to your new home-from-home on the French Riviera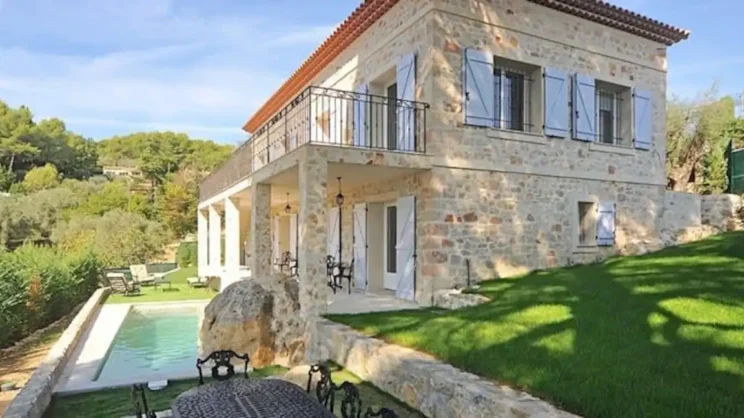 A view of the villa from the gardens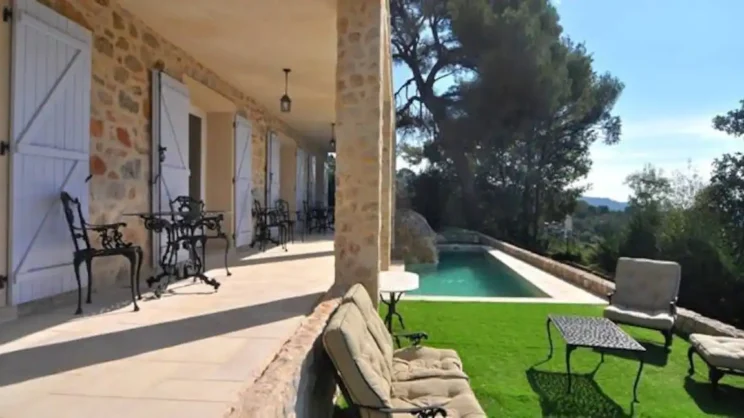 There are plenty of places to rest and relax at the villa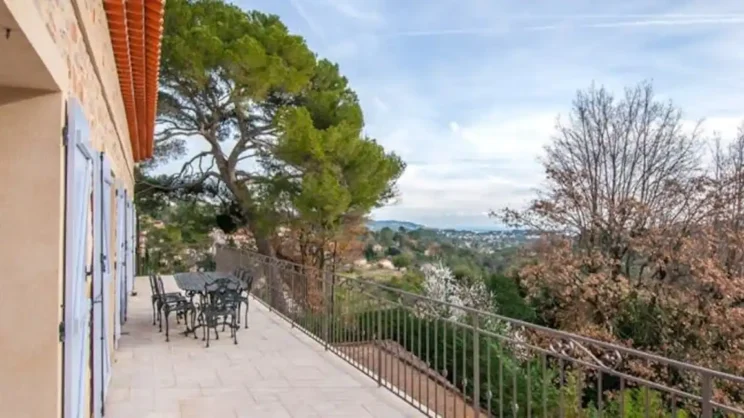 Enjoy spectacular views and fine dining from the upper terrace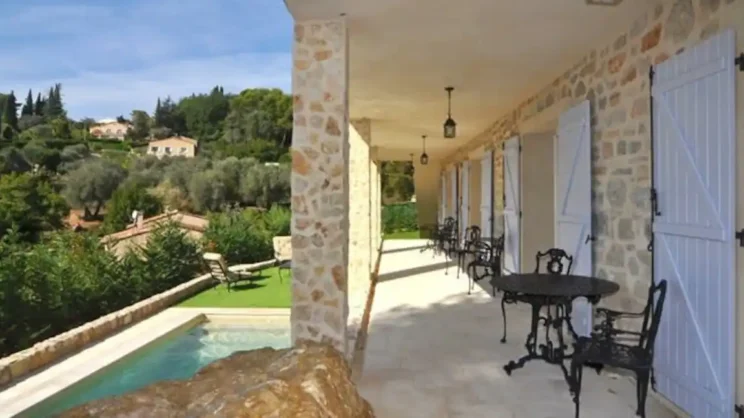 Looking along the terrace and down to the private pool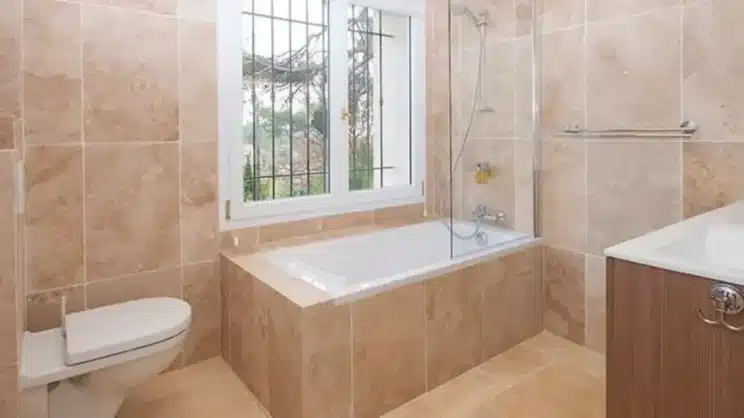 Choose whether to bathe or shower during your stay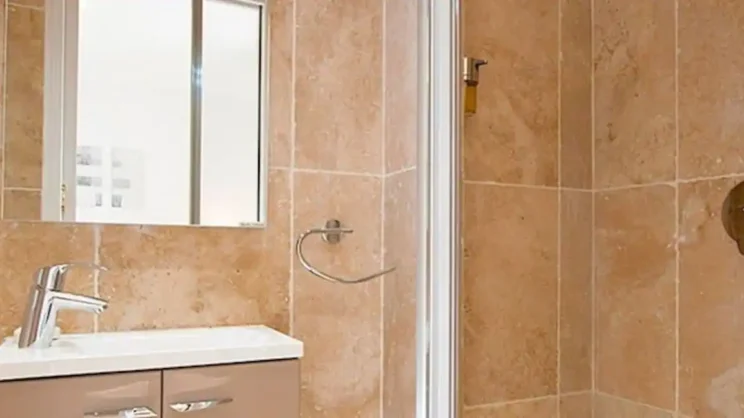 Location
Mougins, Provence-Alpes-Côte d'Azur, France
This villa is located just a few moments' walk from the beautiful Cote d'Azur medieval village of Mougins, that's set among stunning Cyprus, olive, and pine trees. It's a truly charming part of the world that has breathtaking views of the Baie de Cannes, the Lerins Islands, Grasse and the Preaples.
The sandy beaches at Cannes and Antibes that make this part of the French Riviera so attractive to visitors and locals alike are just a 10-15 minute drive away.
Attractions Nearby
Some of the other places you won't want to miss in Mougins are:
The Old Town and the Fountains
St. Jacques The Major church
St Barthelemy Chapel
The Photography Museum
Eco Parc Mougins
Rue de l 'Église
Getting around
Getting around
With parking spaces for 4 cars, driving here is a good option as you can explore the French Riviera and get to Cannes and Antibes in just 15 minutes. If you'd prefer someone else to do the driving, you can always hire taxis or private cars.
Another option is public transport. There is a bus stop only 200 meters from the villa where services can take you to Cannes, Grasse, and Mougins.
The nearest major airport to the villa is Nice Cote d'Azur which is 27km away, so if you are flying there, it won't be long after you land that you could be diving into your private swimming pool at the villa.
Booking a stay?
"*" indicates required fields